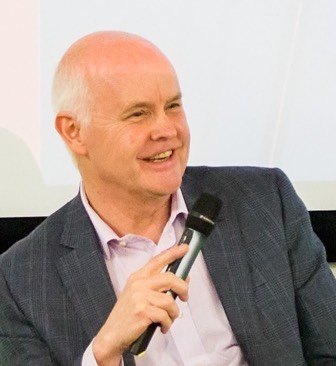 I founded PALFREYMAN VENTURES after 20 years at IBM working in new technology start up businesses at a European and Global level.  
My career history is documented in my LinkedIn profile.  I include long and short biographies below to give a synopsis of my recent activities.
Short Biography

John joined IBM in 1996, as part of the acquisition of Data Sciences where he was General Manager of the Aerospace Division.  John has worked at a European and Global level in IBM as leader of emerging technology businesses including Pervasive Computing, Linux Services, Grid Computing and Open Source Services and extensively in the Global Defence, Intelligence and Public Safety industry.  John currently focuses on the business application of Blockchain, working directly with customers and through enablement of IBM practitioners and partners.  John has worked on several high profile Blockchain customer projects, illustrating the transformational value of this new technology.  John founded PALFREYMAN VENTURES in July 2017 offering informed, objective advice for the application of new technologies for sustained business advantage.
Long Biography


John graduated in Engineering and followed a postgraduate course in Applicable Mathematics at Cranfield, specialising in digital signal processing under the sponsorship of Rolls Royce.  John then worked with Decca Radar (later Racal) and Anaren Microwave Inc on defence electronic systems design, specialising in systems analysis, system simulation and software design.

John then joined Software Sciences where he worked as project manager & business development manager in the defence division, before moving on to grow an embryonic defence simulation business from 5 people to 40 people within a 3 year period. John was then seconded to lead the German operation of Data Sciences, where he managed an 80 person company specialising in Wholesale Banking and Industrial Systems development.

On return to the UK, John led the Aerospace division of Data Sciences, working on a combination of military and civil aerospace projects.  During this time, he achieved significant profitable growth of the division through extensive innovation in customer projects and worked as part of a management team aiming to take the company to flotation on the London Stock Exchange.

IBM bought Data Sciences shortly before flotation, and John worked on the application of new technology from IBM to the Defence and Aerospace business before he moved into the UK Development Laboratories of IBM where his role expanded to the application of new technology across the whole spectrum of IBM's projects in EMEA.

Through this work, John got involved in Pervasive Computing, initially in setting up a team in EMEA to deliver solutions to early adopter customers and later in replicating the success of this team into the Asia Pacific and Americas geographies.  John then moved into IBM Global Services where was responsible for growing the emerging parts of the Wireless e-business services business in EMEA.  He then assisted the Worldwide Emerging Business Organisation in developing structures and methods for growing emerging businesses in a Services environment, based on the lessons learnt in Wireless e-business.

John joined IBM's Linux and Grid Services business in mid 2003, leading the European team.  His particular interests include Open Client solutions (also known as Linux Desktop), enterprise adoption of Grid solutions and Open Source Services.  In 2005, John took on extra responsibility for IBM's Global Strategy for Linux & Grid Services, which culminated in presenting to the Chairman of IBM in January 2006. In April 2006, John assumed responsibility for Global EBO leadership as part of the Global Technology Services organization.

John took responsibility for IBM's Defence, Intelligence & Network Centric Operations global solutions portfolio in March 2007.  He focused on the application of innovative collaborative development to solution building, the importance of open architectures & service orientation in meeting our customer needs.  

John moved to the Software Group Europe CTO Team in July 2011, leading the Defence, Intelligence and Public Safety portfolio with a particular focus on Cyber Security, Social (Media) Business, Open Architectures and the application of Big Data to real time defence and intelligence applications.

John is married with three children.  His interests outside work include music performance, swimming and computer technology.
IBM Experience (Blockchain & Design Thinking)

John spent some twenty years at IBM, working at a European and Global level on a mixture of government business and emerging technology development. The government work included defence, intelligence, cyber security, big data / analytics and machine learning. The emerging technologies included mobile computing, grid computing (precursor to Cloud), Linux / Open Source services and most recently (between 2015 and 2017) blockchain.

The blockchain activities were customer facing, incubating the new technology business after it "graduated" from IBM Research and at the stage before IBM became a Founder Member of the Linux Foundation Hyperledger Project. John led the development of IBM's point of view on business blockchain, documenting the technology in terms that a business leader could understand and relate to. He delivered this point of view at senior level to several tens of customers, and improved it based on feedback received. John worked with the technical team to develop business demonstrators and an incremental engagement model to give customers the confidence (and direction) to get started on their first projects. Comprehensive internal and external education for business blockchain followed initially delivered face to face then digitally. John developed use case tests for a successful blockchain first project to combat the "blockchain's the answer, what's the question?" hype in the industry.

The IBM engagement model incorporated Design Thinking as the standard way to progress customers from a blockchain use case to the start of an agile development project. John structured a two day Design Thinking workshop to meet this aim, and improved it by lead- facilitating the workshop for nineteen customers from a variety of industries in Europe, Middle East and North America. He also developed comprehensive practitioner education on the application of Design Thinking to blockchain first projects, which was delivered to IBM professionals wishing to facilitate blockchain / Design Thinking workshops.

John was very active on social media promotion of IBM's business blockchain focus, developing and socially promoting over thirty blog posts on the topic (see http://bit.ly/JohnBlockBlog). He was the blockchain lead for work with European Commission, and for liaison with UK Universities.